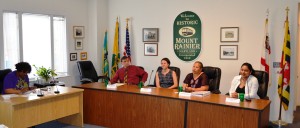 April 18-The League of Women Voters hosted the Mount Rainier's Candidate Forum organized by the MtR Board of Elections. Questions were submitted by audience members. The event was broadcast on the local government channel. Topics of questions included: fostering stronger community bonds, the StreetSense project, hiring a new City Manager, ideas for new programs, improving relations between with police and the community, and better integrating minority communities. After the event, there was a chance for voters to talk directly to the candidates.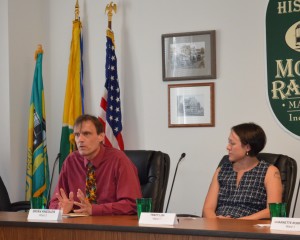 Left: Tammy Norman, League of Women Voters.
Candidates (LtoR): Bryan Knedler, Tracy Hadden Loh, Charnette Robinson, & Shivali Shah
Mount Rainier Board of Elections & League of Women Voters pose for a photo in City Hall. (LtoR): Matt Weber, Abby Greenwell, Nicole Logan, Dina Williams, Karl Jones, Tammy Norman, Ophelia Baxter. Not pictured: Maxine Drakeford, MRBOE Chair.