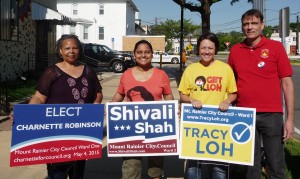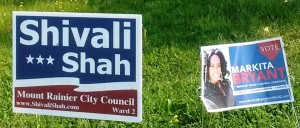 Election Day! Historic Turnout for Mount Rainier! The most number of voters that have turned out in Ward 1 and 2 in decades (possibly ever). As a city, we should be proud: About 480 residents voted. That is more than the number of residents who voted in 2011 and 2013 elections combined!
Ward 1: Tracy Loh won. Ward 2: Bryan Knedler won and Shivali Shah won.
Unofficial Vote Tally
Ward 1
Tracy Loh: 194 Votes
Charnette Robinson: 79 Votes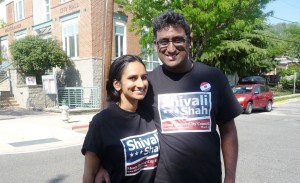 Ward 2
2 Year Seat-
Bryan Knedler 2 year seat: 178 Votes
Markita Bryant 2 year seat: 20 Votes
4 Year Seat-
Shivali Shah 4 year seat: 174 Votes
Markita Bryant 4 year seat: 10 Votes
Votes not reflected in the above numbers include: miscellaneous write-in names, disqualified ballots, provisional ballots, and absentee ballots still on the way.  Of course, each election season, there are always a couple of people who write their own name or a fictitious name or an incorrect name (e.g. a Ward 2 voter will "write-in" the name of a Ward 1 candidate) by accident.  Some votes were disqualified because the voter signed their name on the paper ballot (thereby identifying themselves), their response was not legible, they placed the ballot in the incorrect ward box, or for a number of other reasons. There are still a few provisional ballots that the Prince Georges County Board of Elections will review and make a determination whether they can be included in the final count. Plus, the Mount Rainier Board of Elections is waiting to see if any more Absentee Ballots come in via the US Postal Service. To be counted, Absentee Ballots must postmarked on Election Day or before, but may take up to one week to actually arrive.
State, county, and local politicians and politicos stopped by all throughout the day to chat as well.